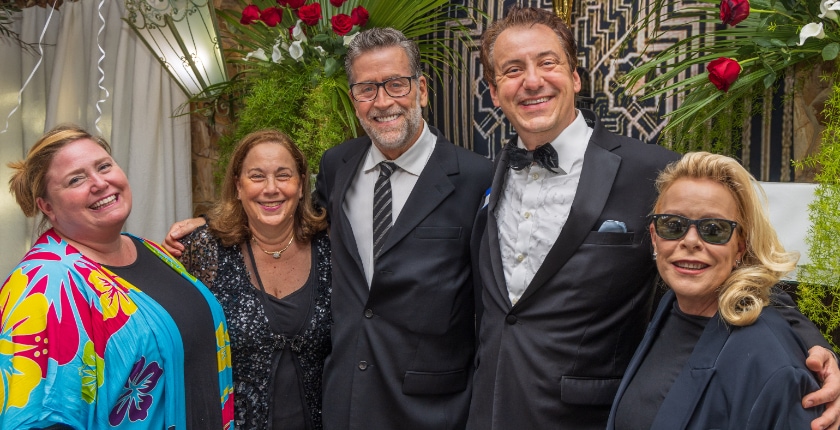 Former Hollywood clothing designer Dana Lyman opened her historic Vero Beach home for an elegant celebration of the 94th Academy Awards on March 27, in a benefit for the Vero Beach Film Festival.
The "Oscar Soirée" guests arrived in tuxedos and evening gowns at the 1930s Mediterranean-style Gracewood Estate, Casa de Arboledas. They sipped on Hollywood-themed cocktails in rooms bedecked in white and decorated with sprays of long-stemmed red roses and white calla lilies. One of the three Oscar ceremony viewing areas was under the stars in the cool spring air with the soothing trickling sound of water from a Portuguese fountain.
Chef Ashley Allison and her team of volunteers served small bites that ranged from curried chicken salad in tiny Chinese take-out containers and filets on crostini, to tres leches cake and chocolate Oscars. The guests bid on thousands of dollars worth of gift certificates, wine, and gift baskets that were generously provided by local donors and merchants for the silent auction.
Gift certificates were also awarded for the best Oscar predictions contest, which was won by Cynthia Vandermolen with a nearly perfect score. She was followed by Elizabeth Borne, Michelle Martin, and Suzanne Roff.
The emcee for the evening, Vero Beach Film Festival Board Member Xaque Gruber, said the evening was particularly special for him because he has worked behind the scenes at the Academy Awards telecast. "But I can honestly say that our soirée was far more enjoyable and fun," he said. "I want to thank Dana and everyone attending for supporting the Vero Beach Film Festival and independent filmmakers," said festival Co-founder Susan Horn. "The party was amazing."
Both Gruber and Horn said they are really looking forward to the return of the Vero Beach Film Festival in June. "We will be bringing another real slice of Hollywood right here to Vero Beach," said Board President David Yakir. "We will have a film that really was nominated for an Academy Award. We will have films that premiered at the Sundance Film Festival, films that were produced in Florida, and even films that were shot in Vero Beach. We will celebrate the filmmakers with parties and panel discussions, and of course, we will have the wine."